In 1993 GMV took over Deve, a company located in Alvesta, south of Sweden. Deve it was an old Swedish lift company, which had existed since the 30s of the twentieth century. It became famous for the original production of the telescopic cylinders with mechanical synchronization type EC / TCS. These pistons, although produced for decades, have faced no competitive solutions, and are still unrivaled in their simple and robust design in the history of technique.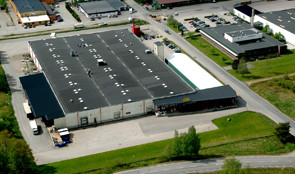 GMV Sweden AB manufacturers:
telescopic cylinders with synchronization:

hydraulic series 9000
mechanical EC / TCS

as well as:

FLH carframes which work with 2 or 4 pistons
Moreover, taking advantage of EC / TCS and FLH technology GMV Sweden AB produces goods-passenger lifts GPL® and the VL® ones that carry vehicles.


GMV Sweden AB is fully capable to manufacture TML® (Taylor Made Lift), lifts which are designed for a specific order depending on: the type of building, size of the shaft and the vision of the designer.